SPC-8800
SPC-8800控制器是我公司最新推出的一款世界先进的专业舞台灯光和LED灯光控制系统。SPC-8800灯光控制器可实现计算机网络联机同步播放、无线WIFI联机播放、SD卡脱机场景播放(ARTNET录制模式)。
配套软件为世界顶级专业LED软件和舞台灯光控制软件,功能完善、操作简单,支持各种特效制作,可直接播放视频文件和图片,可双屏动画叠加输出。突破传统的规则布线限制,支持各种异形灯光工程,使控制布线更加灵活。支持任何通道设计的灯具,适用于各种室内外LED灯光产品的联机/脱机控制,以及专业舞台演出灯光设备的控制。兼容国际标准DMX512协议。支持ARTNET网络灯光协议。可控制所有基于标准DMX512协议的LED灯条,灯带,LED数码管,护栏管,点光源,电脑灯,硅箱,LED帕灯,矩阵灯,像素灯等各种DMX512灯光设备。高速数据传输无延时,真正做到DMX512标准每秒40帧数据要求,显示效果更逼真清晰、亮度更高、色彩更艳丽丰富,让您的LED灯光产品表现得淋漓尽致,胜人一筹。适用范围广泛,可用于户外景观灯光,舞台演出,婚庆表演,迪厅酒吧灯光,KTV包房点歌系统智能灯光控制,楼宇智能灯光控制,展厅灯光,沙盘灯光以及多媒体集成。
Summary
SPC-8800 controller is a newly developed professional stage lighting and LED lighting control system. The SPC-8800 light controller can realize the computer network synchronization playing, wireless WIFI online play, SD card offline scene play (ARTNET recording mode).
The supporting software for the world's top professional LED software and stage lighting control software, perfect function, simple operation, to support a variety of special effects production, can play video files and pictures, animation can be superimposed dual output. Break through the traditional rules, wiring restrictions, support a variety of special-shaped lighting works, so that control of wiring more flexible.Any lamp designed to support any channel design. It is suitable for on-line / off-line control of LED lighting products, as well as lighting control for professional stage lighting equipment. Compatible international standard DMX512 protocol. Support for ARTNET network lighting protocols. Can control all the LED light strip, lamp belt, LED digital tube, guardrail tube, point light source, computer lamp, silicon box, LED PA lamp, matrix lamp, pixel lamp and other DMX512 lighting equipment based on standard DMX512 protocol. High speed data transmission without delay, truly DMX512 standard of 40 frames per second data requirements, show more vivid clarity, high brightness, color more gorgeous rich, let the light of your product LED behaved most incisive, superior. Wide application range, can be used for outdoor landscape lighting, stage performances, wedding performances, disco bar lights, KTV intelligent lighting control room VOD system, building intelligent lighting control, hall lighting, lighting and multimedia integrated sandbox.
一台控制器集合常见多款控制器才能达到的功能,并可实现智能远程控制。4096通道DMX512输出,国际标准DMX512协议。SD卡可储存20个动画场景,控制器可直接操作切换,实时速度调节。联机和脱机可相互切换,控制灯光设备。DMX512输出端口采用标准3芯端子输出,做到连接稳固,信号稳定,线路距离长,干扰小。完善的保护设计,可使控制器长期安全稳定工作。
1. 联机控制
采用TCP/IP标准以太网协议,适应范围广,通讯可靠。局域网内任何一台电脑都可以操作软件控制灯光效果。支持无线WIFI传输,只需加入无线路由器即可实现,适合不便于布线的场合。控制器可以客户自由设置IP地址、子网,以及DMX512输出口,可做到任意更换输出控制,以适应特定的场合要求。
LED灯具不仅可以按照规则布线方式,还支持各种任意布线走向的异形灯光工程,软件设置方法简单易用。支持各种异型通道设计的LED灯,软件矩阵建立非常简单。软件功能完善,操作简单,内置非常多的效果,并可再次自由编辑组合,叠加,自带视频播放器,支持常见的视频文件和图片,可以输入任意文字显示,用户可以编排出各种五彩缤纷的动画效果。
2. 脱机控制
由于LED软件上显示的动画效果,和在实际现场中的LED灯的亮度和色温等差异(各LED生产厂家采用的灯珠和电路设计不同),以及实际现场人眼感观差异等因素,因此软件上看到的效果而保存的动画节目,很有可能不符合或不满足实际现场效果要求,所以我们控制器采用实时数据流的记忆方式来保存场景数据,可以做到操作者在现场看到什么效果就可以保存什么效果在SD卡里,即保存的场景重播时可以和当前实际现场联机控制的效果完全相同,不会因为看电脑显示屏的动画来保存效果,使实际脱机重播效果有差异。
Features
A controller set, a variety of controllers to achieve the function, and intelligent remote control. 4096 channel DMX512 output, international standard DMX512 protocol. SD card can store 20 animation scenes, the controller can be directly operated by switching, real-time speed regulation. On line and offline can switch each other, control lighting equipment. The DMX512 output port adopts standard 3 core terminal output, so that the connection is stable, the signal is stable, the line distance is long, and the interference is small. The perfect protection design can make the controller work safely and steadily for a long time.
1.on-line control
Adopting TCP/IP standard Ethernet protocol, it has wide range of application and reliable communication. Any computer in the LAN can operate the software to control the lighting effect. Support wireless WIFI transmission, only by adding wireless routers can be achieved, suitable for wiring is not easy to use. The controller can set the IP address, subnet and DMX512 output port freely, and can control the output at any time to meet the requirement of a specific occasion.
LED lamps not only according to the rules of wiring, but also support a variety of arbitrary wiring toward the special-shaped lighting project, software settings method is simple and easy to use. Support all kinds of special-shaped channel design of LED lights, software matrix is very simple. The software functions, simple operation, built-in very much effect, and can be freely edit combination, overlay, built-in video player, support common video files and pictures, you can enter any text display, the user can arrange all kinds of animation a riot of colours.
2. offline control
Because the display software LED animation, and LED lights in the actual scene of brightness and color temperature difference (design and circuit of the LED lamp manufacturers use different) and the actual human factors, the concept of difference, so the software to see the effect of preserved animal painting program is unlikely meet or do not meet the actual effect of the scene, so we use the real-time data stream memory controller to save the scene data, the operator can do to see what effect in field can save what effect in the SD card, which can save the replay scene and the current actual control effect of exactly the same, not because of the computer display the animation to save the effect, make the actual offline replay effect differences.
技术规格

Technical specifications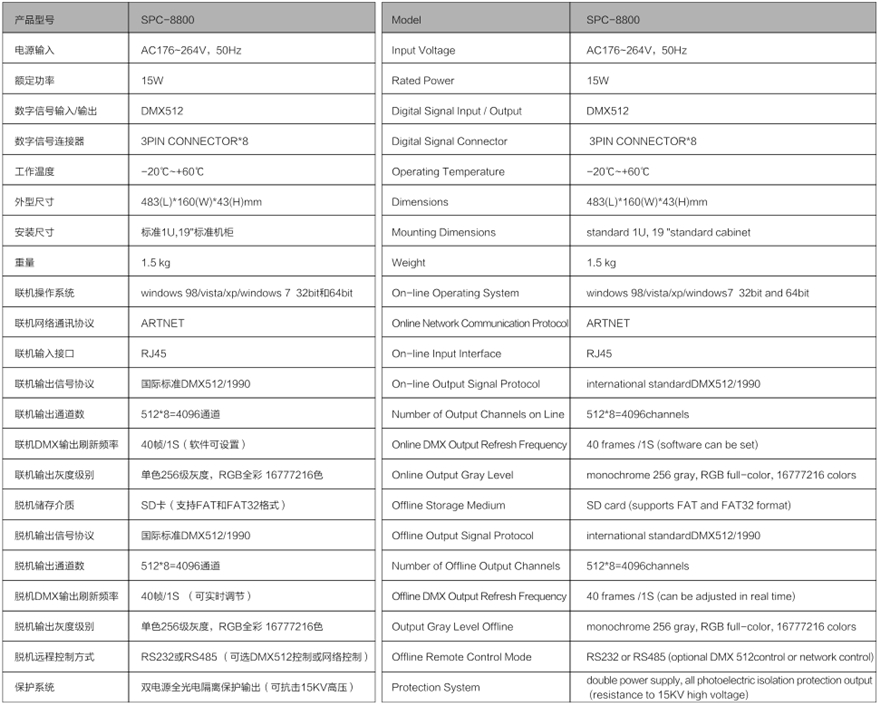 系统图 SYSTEM DIAGRAM